Vital Stats
Fire Team Info
Stage Plot
Audio Input List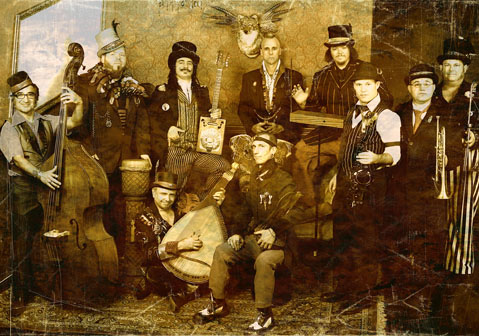 For a decade now, The Mutaytor has traveled the country with one of the most bombastic and unique visceral experiences in modern entertainment. Combining a modern analog and electronic dance orchestra complete with horn section, multiple percussionists, guitars, bass, keyboards, synths and machines, with physical performance artists, The Mutaytor creates a rapid fire succession of futuristic vaudevillian theatre and choreographed dance acts, coupled with breathtaking feats of aerial performance, giant screen visuals, massive pyrotechnic displays and unique reinterpretations of the circus arts against one of the most evolved progressive, electronic art rock bands on the West Coast. The vibe is ecstatic, friendly and all-inclusive, and each show is an explosion of immersive, vivid art; both on and off the stage.
Born in the Black Rock Desert at the Burning Man Arts Festival, the Mutaytor has gone on to record 3 critically acclaimed records, and performed to packed houses and giant festivals all over the country. Their fans are rabid and legion, and often elaboratly costumed, and each event often breaches the wall between the entertainers and the entertained.
In the first review of the bands most recent album, "Yelling Theatre in a Crowded Fire", Los Angeles City Beat writer Ron Garmon called the album, "....a masterpiece....."Yelling Theater in a Crowded Fire" is probably the most formidable work of art to come out of the Burning Man subculture so far, but that'Äôs a secondary accomplishment. An unorthodox re-imagining of classic rock album structure provides the framework for a series of neutron-funk meditations on revolution, extinction, and fornication. A seamless musical Frankenstein with the heart of "What'Äôs Going On" and the groin urges of "One Nation Under a Groove", this album is as much a raised fist for Change as all those ubiquitous Obama posters."
For more information: contact@mutaytor.com